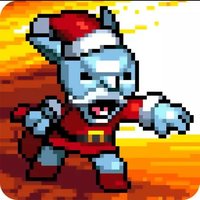 Game Name : 돌키우기 온라인(Grow Stone Online)
Play store link :
Mine Stein online - pixel dungeon MMORPG – Android-Apps auf Google Play
Game Version : 1.262
Cheat Request :
Mod Features:
1) Save/Load your preference
-Save your preference so next time you open the app, you can load it back just how you left it.
2) The button with the "w" is the toggle for the menu
-You can drag it around and replace it if you need to.
*Mod Menu (toggle/configurable mods)*
1) Custom Auto combine
- Added a custom auto combine function that is called every 5 seconds if enabled
-it swaps an item's place with another if they are the same.
2) Remove damage text
-Removes the damage text in the game, leading to less lag
3) Remove stone animation
-Removes thrown stones for less lag
4) Stone speed fix
-If your range is too high, the easing function in the game will make it shoot out really fast that it misses mobs
-This will make the speed constant and work with range well.
5) Large collision box
-Make your stones have larger bodies, hitting at a wide range. Works like an AoE attack.
6) Ghostmode
-Let's you walk around the map like a ghost, moving through terrain, solid or not.
7) Ghost bullet
-Your stones won't get destroyed hitting the terrain.
8) Silent mobs
-Mobs can't use spells or throw shit at you
9) Use item
-If enabled, you will throw the stone ID you have entered.
-The upgrade button will buy upgrade of the ID you have entered.
-With this, you can use and upgrade stones that you haven't even discovered or have.
-The ID starts with 1000 and goes to 1027.
-The last 2 digits are the stone tiers. 1000 being just the most basic stone and 1027 being the dragon stone.
10) Item cool down (multiplier)
-This is multiplied with the item's cooldown.
-ex: if you want to half the cooldown, put 0.5
-For no cool down, enter 0
11) Attack delay mod
-This is the attack delay while in auto mode
-To shoot as fast as your game ticks, set to 0 and use auto mode
12) Range hack
-enter the range you want.
-Normal range is 100, I prefer to use 2000
-This includes a penetration hack, setting it to 100. It works well with large collision.
13) Speed hack (multiplier)
-your normal speed * this multiplier
14) Multi-attack
-Number of times one attack hits.
-ex: if set at 50, hitting a mob with one stone will hit it x50 times.
-I haven't tested high numbers, but works fine with 50.
-EDIT: tested with 1000, one shots anything. One shot hard boss in dungeon
*Built-in features*
1) No ads
-Works just as if you've purchased the remove ad package.
2) no Captcha/quizes
-When you collect rubies, there will never be captcha.
-I noticed you have to answer a quiz if the server thinks something is off. I made it so that the quiz is automatically answered
3) No tutorial
-Tutorial won't start if you start a new game
4) Auto ad rubies
-The free rubies for watching ad will be automatically done for you.
5) Mod Disables when with other players.
-Mod will disable itself when it detects other players in the map.
-This is will you from getting reported and also stop you from abusing it in public.
-I will not remove this feature.
Have you tried any cheat engines? Game guardian