Playstore Link:
Become a patron of Astaros 3D today: Get access to exclusive content and experiences on the world's largest membership platform for artists and creators.
www.patreon.com
Game Name:
My Cute Roommate 2
Version:
v0.1.0801
Needs OBB: No
Needs Root: No
*MOD features*
Ported to Android
may not work on some devices
Walkthrough
Replay Gallery
*Preview*

Credit to: Wills747 (porter),
Ripson (modder)
Free Download:
Hidden content
**

You must be signed up and

reply to the thread

or click

'Like' under this post

before you can see the hidden links contained here.

**
Prequel: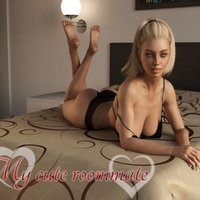 Playstore Link: https://astaros3d.itch.io/my-cute-roommate Game Name: My Cute Roommate Version: 1.6.1 Ex Needs OBB: No Needs Root: No *MOD features* Gallery Unlocked *Preview* Credit to: Brandy Free Download: Hidden content ______________________________________ If credits are...

platinmods.com
______________________________________
If credits are unknown or incorrect and you are the modder you are free to message
@G-Bo
and the credits will be corrected asap!
What you need to know about Shared-MODs
*How to install (click the spoilers to read)*
1. Remove original game
a. if you played with mod before, you can install new mod over it.
2. Download modded APK
3. Install modded APK
4. Enjoy =)
Google+ login possible?
No.
Facebook login possible?
Yes. But remove your facebook app from device.
Specific game account login possible (for example: HIVE)?
Yes.
1. Your device must be rooted.
2. Your device must be full patched. How to? Read:
Tutorial - [Videotutorial] How To Login With Google+ Or Facebook App On Modded Games
3. Install original game from playstore or use original game APK when uploaded here. If you have original game already installed, skip 3. & 4..
4. Start original game and login once with Google+.
5. Close game and install unsigned APK over the playstore version (don't remove the original game).
Google+ login possible?
Yes.
Facebook login possible?
Yes.
Specific Game Account login possible (for example: HIVE)?
Yes.
Tutorials:
Tutorial - Why you should root + patch your device?
Tutorial - How to overwrite/update a MOD with NOX Emulator
Tutorial - [Videotutorial] How to sign up and download on www.platinmods.com
Tutorial - [Videotutorial] How to do the OBB Trick (no root) | OBB Installation Guide
Tutorial - [Videotutorial] How To Login With Google+ Or Facebook App On Modded Games
Tutorial - [Videotutorial] How To Install OBB Files On Modded Games (root)
Last edited: