Just Crazy
Original poster
Jul 27, 2019
324
56,465
1,193
23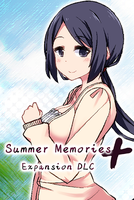 Game Name: Summer Memories+ Expansion DLC
Version: v2.02
Needs OBB: No
Needs Root: No
*MOD features*
1. Ported to Android (some phone may not compatible)
2. Modified mini games :
"Fishing" is auto win.
"Dishes" never break but you still have to tap to clean it.
"Track and Field" you still have to tap it.
"Math" you still have to tap the red button.
"Pog game" is unmodified.
3. All item price is reduced to 90%
4. Insects price and Fishs price increases to 10x
5. Buy "Motivation Drink" and sell it to gain 25k Money
Note : Read the spoiler below, there are some useful (or not?) information.
Yes. This game is Summer Memories but with the DLC. There are significant differences between DLC version and not.
Sen
ported this game (not me), and he's trying to make older game save data to be able to load in DLC version. Here's what he say :
Basically, it was same game, with slight difference, and different save data, so if you already playing in older version and wanna continue your save with DLC version, im sorry you can't.
This game have so many compatibility issues and it's discontinued by the porter (will not receive any bugfix), if you have similar issues like lagging, fps drop, or something similar i suggest you to download the other one (non plus version).
Credit to:
Sensitive Username
(Porter, Modder), myself (simple editing item price)
Free Download:
Hidden content
**

You must be signed up and

reply to the thread

or click

'Like' under this post

before you can see the hidden links contained here.

**
______________________________________
If credits are unknown or incorrect and you are the modder you are free to message
@G-Bo
and the credits will be corrected asap!
What you need to know about Shared-MODs
*How to install (click the spoilers to read)*
1. Remove original game
a. if you played with mod before, you can install new mod over it.
2. Download modded APK
3. Install modded APK
4. Enjoy =)
Google+ login possible?
No.
Facebook login possible?
Yes. But remove your facebook app from device.
Specific game account login possible (for example: HIVE)?
Yes.
1. Your device must be rooted.
2. Your device must be full patched. How to? Read:
Tutorial - [Videotutorial] How To Login With Google+ Or Facebook App On Modded Games
3. Install original game from playstore or use original game APK when uploaded here. If you have original game already installed, skip 3. & 4..
4. Start original game and login once with Google+.
5. Close game and install unsigned APK over the playstore version (don't remove the original game).
Google+ login possible?
Yes.
Facebook login possible?
Yes.
Specific Game Account login possible (for example: HIVE)?
Yes.
Tutorials:
Tutorial - Why you should root + patch your device?
Tutorial - How to overwrite/update a MOD with NOX Emulator
Tutorial - [Videotutorial] How to sign up and download on www.platinmods.com
Tutorial - [Videotutorial] How to do the OBB Trick (no root) | OBB Installation Guide
Tutorial - [Videotutorial] How To Login With Google+ Or Facebook App On Modded Games
Tutorial - [Videotutorial] How To Install OBB Files On Modded Games (root)
Last edited: